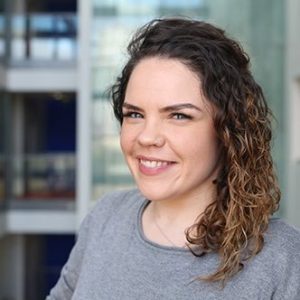 Hi! My name is Martina Curtin and I am the lead for deafness in the trust. I started in November 2018 and have been working with babies and young deaf children in the borough as well as supporting other therapists who have deaf children and young adults on their caseload. I use spoken English or British Sign Language (BSL) in my therapy sessions, whichever language works best for the child. I have BSL level 3 and hope to do level 6 very soon!
'In May we have seen two very important weeks: deaf awareness week (6th – 12th May) and mental health awareness (13th – 19th May)'.These are two very important initiatives and probably more closely linked than you think. There is a higher prevalence of mental health difficulties in the deaf population (Pertz et al., 2018), with 40% of deaf children experiencing mental health problems compared to 25% of hearing children (DH, 2005).  
As a speech and language therapist I am incredibly passionate about communication. Like many of my colleagues in Hackney, I support parents and carers to boost the quality and quantity of their interactions with their children, helping them to expose their children to lots of language throughout the day. If not addressed, poor interaction between parent and child, and reduced exposure to language in general, can lead to lifelong difficulties in communication and cognition (Morgan, 2015; Hall et al., 2017). We want our deaf children in Hackney to be confident and competent communicators and we understand the value of working with parents to achieve this. In Hackney, we are very lucky to work alongside a fabulous Teacher of the Deaf team who also value the importance of empowering parents to be skilled communicators, whether that be in Spoken English and/or BSL.
So what can you do? Well, negative experiences of communicating with people who are unfamiliar with deafness can lead to feelings of loneliness, isolation, and frustration in deaf children and young people (NDCS, 2015; Theunissen et al., 2014). So why not check out this video I was involved in making with BBC journalist Hannah Gelbart for some helpful tips on how to communicate with deaf children: https://www.bbc.co.uk/news/av/uk-40794990/some-people-are-shocked-when-i-say-i-have-a-magnet-in-my-head Information on where to learn BSL can be found here: https://www.signature.org.uk/?gclid=EAIaIQobChMI3Mq4yqCi4gIVmLPtCh2eVAH5EAAYASAAEgLnbvD_BwE
See you around!
@martina_SLT