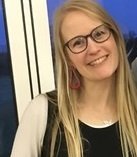 by Anna Sowerbutts, Highly Specialist Speech and Language Therapist in Hackney & The City
This Friday, 16th October, marks International DLD Awareness Day, when our Speech and Language Therapists, along with those working with children and young people with DLD across the world, will be working to raise awareness of this little-known condition.
DLD – or Developmental Language Disorder – affects around 7% of children, which is around 2 children in every class of 30. DLD is a lifelong condition, affecting understanding and using language. Children and young people with DLD often have difficulties with literacy and learning, and it can also impact on their ability to form and maintain friendships and their emotional well-being.
As we've all been getting used to wearing masks this year, we wanted to make a film to highlight that DLD is a hidden condition, which not many people have heard about. Watch our film – 'DLD Unmasked' here.
Want to know more about DLD and how you can support the children and young people you work with? We are running CPD sessions for school and setting staff on DLD Awareness Day (Friday 16th October) at 1pm and 4pm. You can contact us to access the sessions live, or watch a recording here afterwards.
You can also find out more information about DLD by speaking to your Link SaLT or contacting us via the website