It's nearly Christmas – a great time to get everyone involved with some singing – and signing.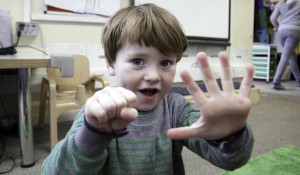 Young children really love the chance to add some actions, and Makaton signing gives everyone a way to join in.
I keep hearing about schools and nurseries where the children are having fun using Makaton in their Christmas songs and plays. It's really easy as well – just show the shape of a long beard and mime putting a sack over your shoulder – congratulations, you've just signed 'Father Christmas'!
I've been looking on the Makaton website and they have a fun Christmas Count-down every year. Every day there is a new Christmas treat – today's was a group of young people singing and signing the words to 'White Christmas'!  There are also free Christmas downloads with all the vocabulary you need.