In celebration of Autism Awareness Week, we thought we would share information about Autism and show how some of the Speech and Language Therapists in Hackney support children with Autism
Autism is a lifelong, developmental disability that affects how a person communicates with and relates to other people, and how they experience the world around them. Autistic people see, hear and feel the world differently to other people. Autism is not an illness or disease and cannot be 'cured'.
 There are around 700,000 people with autism in the UK. If you include their families, autism affects 2.8 million people.
 Autism is a spectrum condition. All autistic people share certain difficulties, but being autistic will affect them in different ways. Some autistic people also have learning disabilities, mental health issues or other conditions, meaning people need different levels of support. All people on the autism spectrum learn and develop. With the right sort of support, all can be helped to live a more fulfilling life of their own choosing.
In Hackney, we have Speech and Language Therapists working in nurseries, schools, special schools and colleges, supporting children with Autism. Here are some examples of work we do: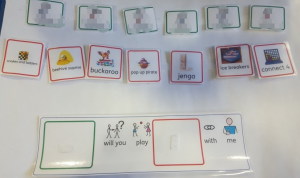 One of the speech therapists at the Garden School has been facilitating a Games Group. This group teaches students how to ask their peers to join in games with them. The visual supports allow the students to independently verbally ask peers to play with them and then guide the students so they know how to play the game appropriately e.g. taking turns and waiting. The children are learning a new skill, whilst enjoying fun games!
Children at Shoreditch Park ARP have been learning about emotions. They are learning to recognise how they and other people are feeling and they are learning how to sort those feelings into different 'zones'.  We have been practising using a range of tools to help us feel calm and happy and ready to learn.  This is their classroom display which they refer to throughout the day.
If you would like more information on Autism or Autism Awareness Week, please go to the National Autistic Website: http://www.autism.org.uk/
If you would like more information on how to support your child's social communication skills, please look at our leaflets: http://gethackneytalking.co.uk/parents/leaflets-and-ideas/
Written by Nicola Chamberlain, Highly Specialist Speech and Language Therapist