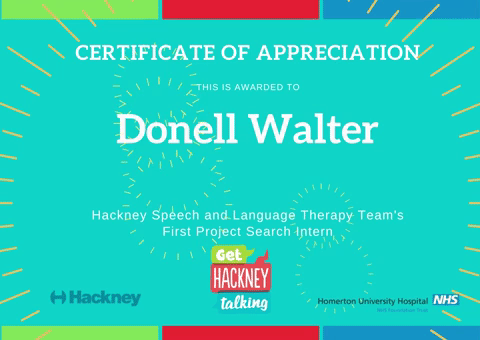 Donell joined us as an intern on a virtual digital media placement from January – March 2021. Donell was our very first intern from Project SEARCH so it's been a fascinating and enjoyable learning process developing this digital media intern role, and working in partnership with Donell and the Project SEARCH team.
Working with Donell has been a real pleasure and an excellent opportunity for our team to learn from a young, hardworking and creative individual who has experienced speech and language therapy as a client, and also has many insights to offer from his own perspective on therapy, education, and online presence.
The key areas of our service that Donell has supported us to develop are our social media channels on Facebook and Twitter, and our team website, including launching a blog, which can be found here: http://gethackneytalking.co.uk/project-search-interns-blog-by-donell-walter/
He also created a great section on Role Models for young people with communication needs.