Launchpad for Language is a programme provided by Speech and Language Therapists for all Early Years children in a school or nursery setting, supporting speech, language and communication skills.
Check out our short film below: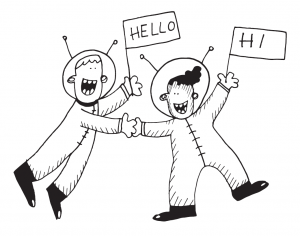 Communication skills are a fundamental building block for life. Good speech and language skills help children to build a strong foundation for success in school. However, research suggests that many children enter school without the speech, language and communication skills they need.

Boosting children's language skills at an early age can help with subjects such as literacy and numeracy, as well as other important aspects of school life such as making friends and understanding rules and routines.
Launchpad for Language is a universal approach to supporting all the children in class to reach their
communication potential based on the Early Years Foundation Stage principles. We offer a school nursery and/or Reception package, as well as packages tailored for the needs of Children's Centres and smaller nurseries and playgroups. Many settings use their Pupil Premium funding to buy-in this package.
If you would like to talk to someone about buying-in Launchpad for Language for your school or nursery please get in touch.
You can also download an A3 Launchpad for Language poster or small leaflet here: